Round 1, 2018 British Ducati Tri Options Cup - Donington Park
Round 1, 2018 British Ducati Tri Options Cup - Donington Park
Round 1 of the Ducati Tri Options Cup was held at Donington Park over the Easter Weekend, as support of the British Superbike Championship. The class consists of the Ducati 959 Panigale, with very limited changes allowed to the bike. Your own suspension is the only major difference between bikes, making it a very even playing field for all competitors.
The weather over the weekend was as inconsistent as I've ever seen it, with low track temperatures of 5 degrees, and heavy rainfall for a lot of the weekend. But we were back racing at BSB and buzzing to get the season underway! We had 3 tests cancelled prior to the season, due to snow through out England, so I was as keen as ever to turn some laps on my Ducati.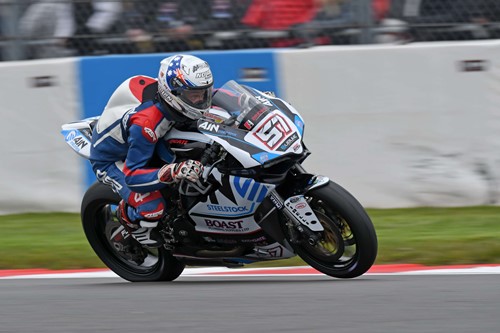 The race weekend was held from Saturday to Monday over the Easter holiday, giving us one practice session and one qualifying session on Saturday. It was a wet track for our first run out in practice, but I built my speed up every lap as I was growing in confidence, in the damp and cool conditions. I finished the practice session in 1st, which was a great feeling, to have some good feel for the wet conditions. For qualifying the track temperature had lowered further, but a dry line had started to appear on most of the circuit. There was still one corner however, which was soaking wet, meaning it was the best option to take to qualifying with wet tyres on. We had good pace in the tricky conditions to qualify on the front row, in 3rd position.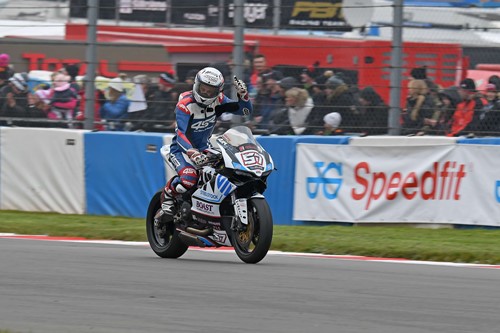 For Sundays race the track had completely dried, but it was our first run in the dry for the weekend. I got a good start to get the whole shot in to turn one, before being over taken at turn 2. I followed pole sitter, Lewis Rollo for half a lap, before making a move on him. For the next 3 laps I managed to get in to a great rhythm and stretch the lead to 2 seconds. From there I was able to manage the gap and put in some consistent and strong laps. I led for the remainder of the race, keeping my head down and riding my own race, crossing the finish line with the first win of the season!! The best way to start our 2018 campaign!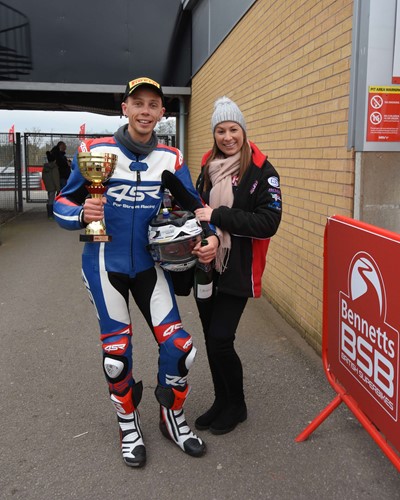 Mondays weather was dismal and nothing got on track until 1:30pm due to the sheer amount of rainfall. Our race went ahead in the end with an extremely wet track. Unfortunately I wasn't able to get the same feeling as I was able to have in the wet on Saturday, and I rode to 15th position. I am positive we have certainly found some feeling in the wet, as we showed it in practice and qualifying, but it didn't go our way in the race, with a few of the other front runners in this years championship having difficulty also. I am hoping for some more wet session to build upon our lessons learnt and turn it in to some good wet races.
Our next race is at Brands Hatch Indy in two weeks time, and I'm absolutely buzzing to get back on my BPS Racing/AJN Steelstock Ducati 959 to continue to work hard with my team on building on our positive first round. We have shown we have the pace to be fighting for the championship this season, and I'm very fortunate to have an amazing team, sponsors and family behind me supporting me in every way. This wouldn't be possible with out the support of everyone at BPS Racing and AJN Steelstock so I am very grateful to them!
To all my 2018 Sponsors I thank you for you support this year!