Round 2, 2018 Ducati Tri Options Cup - Brands Hatch Indy
Round 2, 2018 Ducati Tri Options Cup - Brands Hatch Indy
Round 2 of the Ducati Tri Options Cup was held along side the British Superbikes at the Brands Hatch Indy Circuit over the weekend. After a strong weekend at Donington for round 1, taking the first win of the season, I was confident going into this round that we could continue the good form.
We had one practice session before qualifying on Friday. We were on the pace straight away and was second quickest in practice. The bike was working well and only a few small adjustments were going to be made for qualifying. We were using all the suspension in a heavy braking zone so a few tweaks to that and the lap times would be quicker for qualifying. I went out for qualifying and on the first lap the engine lost power and seemed to have a fuelling issue. We attempted a few minor adjustments in pitlane but had no improvement. I was unable to get a lap in qualifying, meaning I would have to start last, 38th position, for race one. It was a tough blow as practice had felt so good.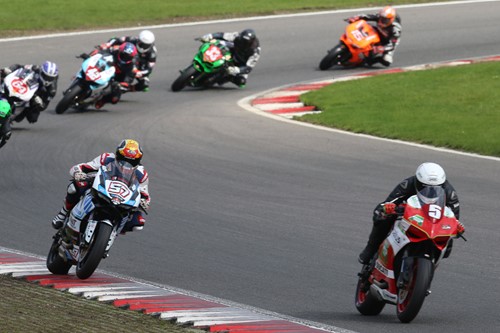 My team worked hard to resolve the issue for Race 1 on Saturday. No being able to be fully certain of the issue, the decision was made to change a few things on the bike, that may be causing the issue. Foam in the tank that had deteriorated was clogging the fuel pump. An obvious problem, this was deemed to be the most likely cause of our issues. On top of that though, they changed the throttle, start switch and a few other bits, which we were all confident had covered our bases. We ran it on the dyno at the track, and it was producing good power and no issues what so ever. Problem solved we thought….
Starting 38th for race 1 I got a great start and put in a good first lap to be 14th at the end of lap one. Unfortunately the bike problem came back again with no prior warning. I had to retire from the race, unable to get the bike to run. A huge knock for us to be scratching our heads as we were sure we had found the issue. It seemed to be a lot deeper than we first thought. A problem with the wiring harness and the bikes electrics seemed that it could be the problem. We had Ducati plug it in to their diagnostics system, which showed no faults. This could mean that there was a serious glitch to our electrics with it not reading some important area's of the bike.
With Race 2 not until 5:15 on Sunday afternoon and my team worked their butts off all day to get a bike built up. We are not allowed to have 2 bikes, where you just jump from one to another, if one gets crashed or breaks down. They had to build a bike up with electrics that we had as spares, along with my current suspension, wheels, brakes and so on. They started at 6:15am, and got it finished with 4 minutes before the gates opened for our race to start. An absolutely massive effort my my mechanics Graham and Paul, along with the rest of the team, Mike, George and everyone for even getting me out on the grid for race 2. To make things even more interesting, it rained about 30 minutes before our race, giving them just that little bit more work to do, swapping wheels and suspension!! Starting again from 38th, I felt I had a decent ride considering all the circumstances. Brining it home in 17th from the back of the grid, in wet conditions, it was great to just get the bike out there and have no issues with it!!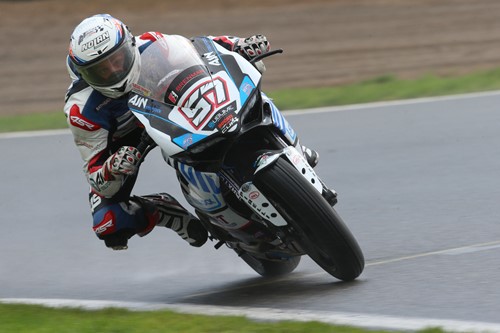 We have a test before the next round at Oulton Park, to ensure the bike is 100% and back to where it needs to be. We as a team have the pace to be winning races, which we showed at Donington and have showed in various sessions so far. I'm positive that we will turn these results around for round 3 and will be giving it my all as always to bring home a good result for my team.
I am so grateful to the effort put in by my guys every weekend, they believe in me 100% and our results are a huge joint effort, from my team, my sponsors and everyone behind the effort. With out everyone involved I wouldn't have the opportunity I have, to be competitive, so thank you to everyone involved!