Round 5 of the 2018 Ducati Tri Options Cup - Brands Hatch GP
Round 5 of the 2018 Ducati Tri Options Cup - Brands Hatch GP
Round 5 of the Ducati Tri Options Cup was held at the Brands Hatch Grand Prix Circuit over the weekend. After being tangled up in another riders incident at Snetterton 4 weeks ago, I sustained a broken collarbone and rib. I have worked hard in these 4 weeks to regain as much strength as possible to try my best and ride at Brands Hatch. Fortunately, I passed the fit to ride test with the medical staff at Brands Hatch on Friday morning, and we could get the weekend underway!
We had practice and qualifying on Friday. I felt a little uncomfortable on the bike, holding my self differently than normal, to try and keep my collarbone as stable as I could. I managed to get a good lap time in by the end of qualifying to surprise my self ending the session in 2nd position! This was a really positive qualifying for us, and I was just glad to be back riding and working toward some good results.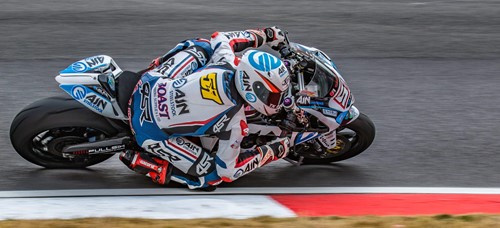 Photo credit: Michael Denning
The sun was shining on Saturday and I was excited for our 12 lap race. I didn't want to put to much pressure on my self on what we could achieve in this first weekend return to racing, but after qualifying 2nd, it was only natural to want to do well! Being 11 weeks since I had last raced the Ducati, I was pretty anxious to get going! I didn't get a great start and took a lap or two to get into a rhythm. I had dropped down to 6th position, but felt relaxed on the bike. I worked my way through to move up to 3rd position. I was unable to close the gap to the leading two riders, but I was able to pull out a 2 second gap to 4th place. I kept my head down and bought home a 3rd place finish! I was really happy with this result, to be on the podium so recent after the injury isn't what I was expecting. Although I felt calm on the bike, I do feel like I certainly wasn't riding to my full potential. I would usually ride more relaxed and with more exaggeration of body positions on the bike, but I felt I was riding as best I could given my injuries.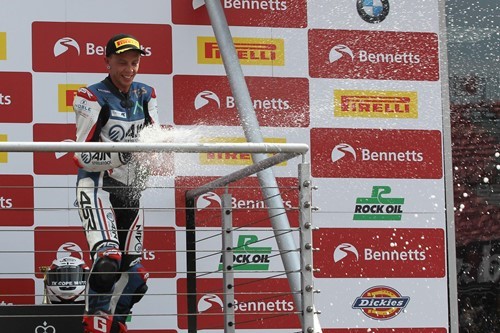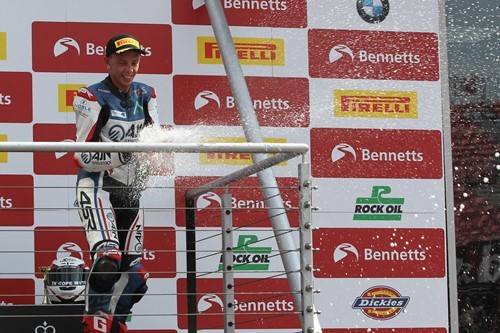 Photo: Bonnie Lane
Race 2 on Sunday was nice and early at 11:40am. I qualified 3rd (going off the laptimes from race 1). I made a better start and was in the battle for second place. I felt like I was comfortably running that pace and had a plan for the end of the race. I made a move on lap 9 or 12 and tried to make a bit of a break. I had a few moments though, pushing the front into some of the faster turns, and I wasn't able to make a gap. I lost some momentum due to these mistakes and dropped back to 4th, finishing 0.6 of a second behind 2nd place. Of course a little dissapointed I didn't get another podium as our pace was certainly there, but at the start of the weekend, if I had thought of getting a 3rd and a 4th after not racing for 11 weeks, I would have taken it!
It was great to be back working with my team and representing my sponsors this weekend. I've now got 4 weeks before Cadwell Park to gain some more strength back and be fighting fit to battle for the race wins in the final three rounds of the championship. Thank you to everyone involved, my team, family and sponsors for all being so amazing!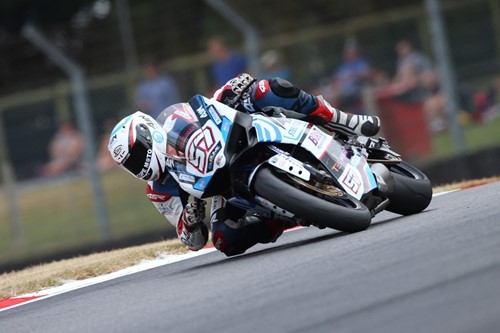 Photo: Bonnie Lane