Round 6 of the Ducati Tri Options Cup - Cadwell Park
Round 6 of the Ducati Tri Options Cup - Cadwell Park
Round 6 of the Ducati Tri Options Cup was held at the picturesque Cadwell Park over the weekend, in conjunction with the British Superbikes. Cadwell Park, well known for the 'Mountain' where riders get airborne, is a very skinny and technical circuit. I believe it is also the most physical circuit we race at on the calendar, with many changes of direction with little time in between. I hadn't raced at Cadwell since 2014, due to various reasons, so I was looking forward to getting back to this circuit and seeing what we could do!
We had practice and qualifying on Friday, and the bike was feeling good from the get go. I got into a good rhythm early on and set the fastest time in practice. Cadwell is very one lined and with it being so skinny, there are limited passing opportunities. In qualifying I found my self getting caught out by catching slower riders and not being able to get a complete lap together to put in a good lap time. I was getting a little bit flustered by it, so I did a ride through in the pits to try and clear my head. At this time I was 5th in qualifying. I came onto the start/finish straight and the clock had 10 seconds left in the session, meaning I had one more lap to try and improve. I managed to put in a good lap and not make any mistakes, bringing it across the finish line with the fastest time for qualifying, putting me pole for Race 1 on Saturday!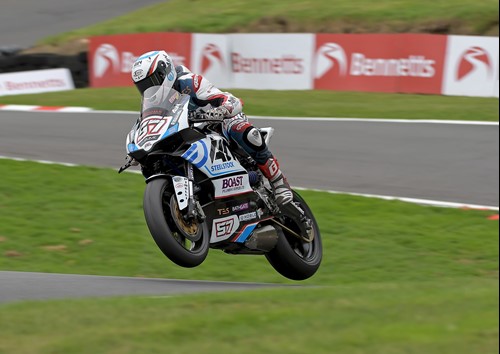 Photo: Walker Sport Pics
Saturday was a 12 lap race and I was really excited to get going for it. I knew there were around 4 or 5 riders that would be on the pace to take the win, so I had to try and use my head as much as possible. Lewis Rollo who started 3rd got a good start and led into turn one on the first lap. I dropped back to 3rd where I stayed for 5 laps. I managed to pass Rob Guiver for second on the fast change of direction between turns 1 and 2. The following lap I took the lead, passing Lewis Rollo under brakes. I knew I wouldn't be able to gap the riders behind me, as our pace was all similar. I just tried to concentrate on hitting my lines and markers each lap and mid race, until 2 laps to go, I had done 6 laps all with in 1 tenth of a second of each other. With two laps to go, I worked on getting drive out of a few particular corners, that meant I created enough gap to not get passed under brakes into the next section, and cover my lines in other areas, to not leave the door open to invite a pass underneath. I took the win by 0.2 of a second, and less than a second covering the top 4 riders! I was mega pumped with the win in race one. We had some guests from AJN Steelstock there to support me, so I was really proud to get the win in front of my amazing sponsor. The grid for race two is determined from the lap times from race 1. This meant I was to line up from fourth for race two. This wasn't a problem, so long as your on the front 2/3 rows I believe you can win a race from there, if you can get a good start.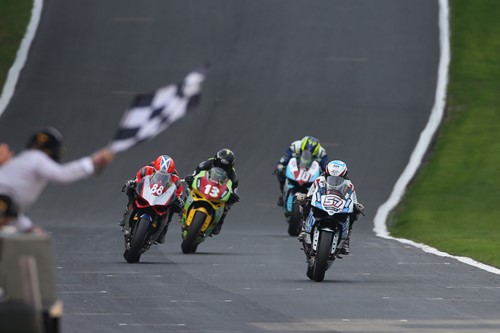 Photo: Bonnie Lane
We waited around until the final race of the day at 5:20 on Sunday, for our race to take place. I got a reasonable start and tucked in behind the front 3 riders. There was a group of 5 of us for the first few laps. 4 of us went under the lap record so the pace was definitely hotting up! I managed to get passed Sean Neary into 3rd place, by around half race distance. The front 2 riders had gapped us just enough, that I could equal their lap times, but not quite pull them in. I did everything I could but managed to bring it across the finish line in 3rd place. Another solid result, but obviously would have loved the win again! But a win and a 3rd for the weekend, I am extremely pleased with. I like Cadwell Park, but I've never thought of it as a track that I do particularly well at. I seemed to have changed that now and it's been one of the great circuits for us!
I must thank my wife Katie for all her support at the weekend, she is currently 39 weeks pregnant, and still was by my side all weekend supporting me doing this. I'm very grateful to have her support as always! We are expecting our first child any day now!
Silverstone is the next round for us, on the 10th of September. I'm really working hard and looking forward to finishing the season off strong. We have Silverstone and Assen left in our championship, both of which are tracks I really enjoy riding at.
A big thank you to AJN Steelstock and BPS Racing, for all their hard work and support. My team worked hard as they do every weekend and I'm proud to bring home some solid results for my team and sponsors. Thank you to everyone that makes this possible!