Round 7 of the Ducati Tri Options Cup - Silverstone
Round 7 of the Ducati Tri Options Cup - Silverstone
The penultimate round of the Ducati Tri Options Cup was held on the Silverstone National circuit over the weekend. After a solid showing at Cadwell Park two weeks ago, where I took pole position, a race win and a third place, I was feeling really positive going into Silverstone. Due to MotoGP being cancelled there a fortnight ago due to lack of grip in wet weather, British Superbikes only used half the circuit, called the national circuit, which was deemed to be the safer of the two halves, incase it was to rain. We all knew most of the circuit, it was only two corners that everyone had to learn which made the track a little different.

Free practice on Friday was used to find the correct gearing and to learn the new corners for the National circuit. I ended the session 5th fastest. The lap times were less than 60 seconds, and the top 7 were separated by less than half a second. We had qualifying on Friday afternoon, and we made some good steps forward with the bike set up. I managed to string a good lap together to take pole position! It was a bit of a surprised as I felt there was still some good time to be made, but I was stoked of course to show we had good pace!
Race 1 was held on Saturday afternoon over 15 laps. I got a reasonable start, but not amazing, to be 3rd into turn 1. I held this position for 2 laps before making a move to take the lead. I held on to the lead for a few laps before getting dragged down the back straight. Rob Guiver and Lewis Rollo had just a couple of tenths of a second per lap quicker than I could manage. I was unable to even sit in their slip stream, with out being gapped. I did the best I could and felt I rode a really strong race, coming home in 3rd position, 2 seconds off the win at the end of the 15 laps.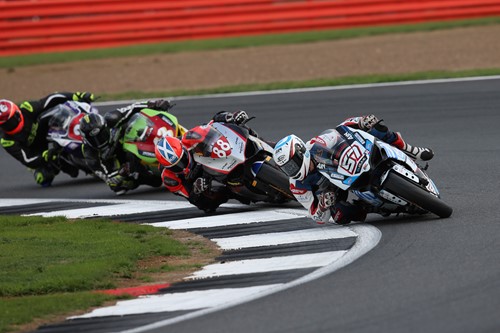 We were scratching our heads over night trying to understand what we could do to find the extra pace we needed for the race. I am never a rider to blame my material. In fact, in years gone by, I should probably have done that more, when I know I've been riding well and the bike hasn't quite been up to the job. I will always look at improving my self, and blame my self when results aren't as good as what I believe they could be. But I am confident, along with my team, that our bike wasn't up to speed this weekend. The teams job, of setting up my suspension, keeping the bike running at race weekends etc, has been second to none. They don't have anything to do with building the engines and producing the power.
In race 2, the suspension changes we had made to try and find some pace, seemed to work well and I had a better feeling with the bike. How ever I was getting blasted down the straights and felt like a sitting duck, unable to fight back in my usual manor! I managed to bring the bike home in 6th position. An ok result for a bit of an off day with the bike, but we know deep down that my pace for battling for the race win was there. Our final round is in Assen in 3 weeks time, and it is another fast flowing circuit. I love that style of track and last year I was 2nd in the race and had the fastest lap of the race. So I am confident that we can get the bike sorted and be back fighting for race wins, for my self, my team and my sponsors, especially AJN Steelstock, who make all this possible and always believe in me.